The Legacy Wall
The Legacy Wall celebrates the contributions of LGBT individuals throughout history and raises awareness about their stories.
The Legacy Wall features the stories of LGBT people from all walks of life throughout history who have contributed in over 20 distinct fields. The content is international and multicultural, and has been substantially vetted and sourced. This wonderfully positive and inspiring exhibit will tell the stories behind such figures as social justice pioneer Jane Addams, civil rights organizer Bayard Rustin, British mathematician Alan Turing, U.S. Congresswoman Barbara Jordan, astronaut Sally Ride, iconic artist Michelangelo, and Fr. Mychal Judge – the "Saint of 9/11" – over 100 "mini-biographies." This age-appropriate content is immensely enlightening for all audiences and produces powerful – often cathartic – responses in people. Learn more about this traveling exhibit and The Legacy Project.
View the Legacy Wall bibliography.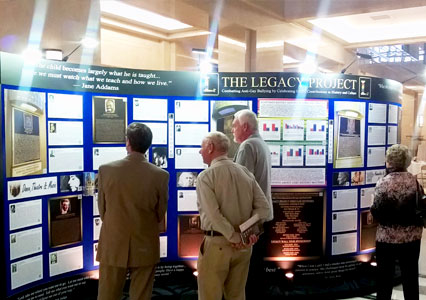 ---
Bayard Rustin: Black Gay Quaker Thinker and Civil Rights and Labor Activist
February 15, 7 pm, Prairie Room of the Bone Student Center
As part of the Presidential Speaker Series, Carlos Figueroa of Ithaca College will speak about his upcoming book. Quakers, Race and Empire: Political Ecumenism and U.S. Insular Policy Rhetoric, 1898–1917, Figueroa will explore Bayard Rustin's Quaker sensibilities, and how his reliance on Quaker principles–peace, equality, integrity, simplicity, community, and truth – informed his nonviolent protest, and later the coalition building during the black freedom and equality struggles of the 1950s-1960s.
---
#STATEyourlegacy with ISU Pride
Wednesday, February 17, 7pm, Floor 2 of Milner Library
Join ISU Pride at a special meeting in Milner Library as we discuss the Legacy Wall exhibit and how you can #STATEyourlegacy.
---
Woman in Blue: Union Army Private Albert D.J. Cashier of Illinois
Thursday, February 18, 7pm, Floor 2 of Milner Library
Of all the innumerable Civil War stories of life under arms (from boredom to bravery and humor to horror), one would be hard pressed to come up with a more intriguing yet ultimately more touching story than that of Albert D.J. Cashier of the 95th Illinois Infantry. Pvt. Cashier spent three years on the march through the South, all the while participating in some of the bloodiest campaigns of the Western Theater. Though a true tale of war and woe, this remarkable story becomes even more remarkable when one learns that Cashier was actually a woman named Jennie Hodgers. Join McLean County Museum of History librarian Bill Kemp as he talks about the life of transgender Civil War veteran Albert Cashier. Refreshments will be served. Seating is limited!
---
Barbara Gittings: Gay Pioneer
Thursday, February 25, 7pm, Floor 2 of Milner Library
Barb Dallinger will interview Windy City Times publisher and executive editor Tracy Baim about her new book, Barbara Gittings: Gay Pioneer. Baim will also speak about founding the alternative paper, Windy City Times, and how she became interested in LGBT historical figures, including several who are included on the Legacy Wall. Refreshments will be served. Seating is limited!