Reading Women
Carrie Schneider's Reading Women film (2015) is on view at Illinois State University's Milner Library (on the third floor) from November 3–December 20, 2015. This screening is held in conjunction with Schneider's comprehensive solo exhibition, Nine Trips Around the Sun: Selected Works from 2006–2015, on view at University Galleries through December 20. The exhibition was curated by Senior Curator Kendra Paitz and was made possible by grants from The Andy Warhol Foundation for the Visual Arts and the Illinois Arts Council Agency.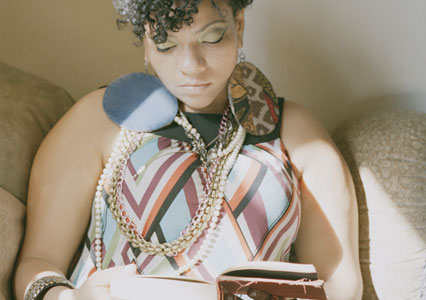 For Reading Women (2012-2015), Schneider set up scenarios to concurrently photograph and film, in this case repairing to the domestic interiors of her creative cohort to record 100 individual female artists, curators, writers, and musicians as they each read a book of their choosing by a female author. The subjects were recorded in their homes and studios reading books by writers including Angela Davis, Joyce Carol Oates, Mary Shelley, Zora Neale Hurston, Harper Lee, and Roseanne Barr. Schneider relates that during the course of their reading, "the sitter loses awareness of the camera and any semblance of a pose, forgetting her cultural performance." The entire project consists of 100 portraits (36 x 30 inches), this film (4:22 hours), and an artist's book featuring photographs of the last pages each person read during their sitting.
Schneider's work has been exhibited in solo presentations at the Museum of Contemporary Art, Chicago; Finnish Museum of Photography, Helsinki; Mattress Factory, Pittsburgh; California Museum of Photography, University of California Riverside ARTSblock; and Trondheim Academy of Fine Art, Norway; and in group exhibitions at the School of the International Center of Photography, New York; Galería Alberto Sendrós, Buenos Aires; and Kunsthal Charlottenborg, Copenhagen. She has received awards from Creative Capital, the Jerome Foundation, the Joan Mitchell Foundation, and the Illinois Arts Council Agency, and was a Fulbright Fellow at Kuvataideakatemia (Academy of Fine Arts), Helsinki, and a Sumner Rulon-Miller Fellow at Skowhegan School of Painting and Sculpture. Schneider received her BFA from Carnegie Mellon University and her MFA from The School of the Art Institute of Chicago, and she is currently participating in the Whitney Independent Study Program at the Whitney Museum of American Art. She lives in Brooklyn and is represented by Monique Meloche Gallery, Chicago.
For additional information, see carrieschneider.net/index.html.